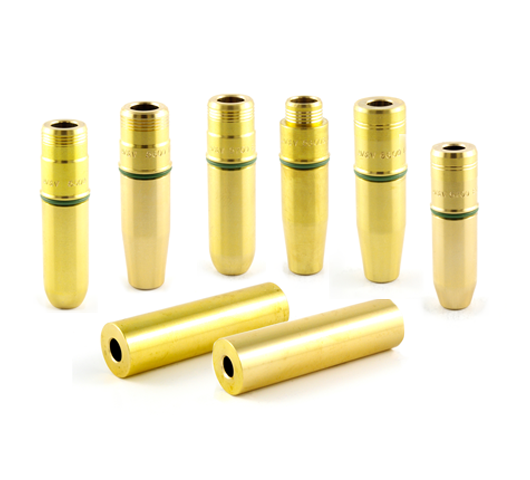 AV&V™ Extreme Duty Manganese Bronze Valve Guides (5/16 valves)
AV&V's Manganese bronze valve guides are CNC machined. Our alloy allows you to fit both intake and exhaust valves at tighter clearances for better heat  dissipation, quieter running and longer engine life.
Special Hi-temp. Viton O'rings are used to prevent oil infiltration between guide & head. Tapered & radiused nose for easier installation and better air flow.
Unique Super Grip valve seal section : use either OEM style or viton seals. Unfinished I.D. ready to be easily finished with AV&V's Carbide reamers. (see reamers section)
High Lift & High Flow Application
Notes :
• Use with .531" Viton valve seals (V312531)
• Shorter seal area for high lift application
• Profiled for optimum airflow
Notes :
• Same guides as above except for seal diameter.
• Use with .421" Viton valve seals (V312421), or O.E. style valve seals (K312420)
Stock Replacement
Notes :
• Use with .531" O.E. style valve seals (K312530).
• Stock length
• Stock replacement
AV&V™ Universal Valve Guides (5/16 valves)
Universal Repair Guides
Notes :
• Maganese bronze alloy
• Ready to be machined