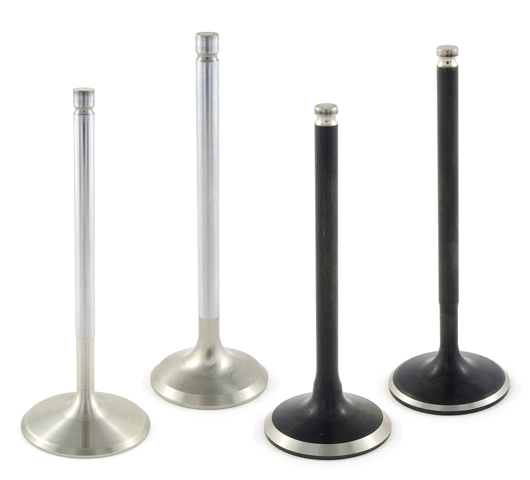 AV&V™ Black Tulip Extreme Duty Valves for Yamaha
These superb valves feature the highest flow level on the market. They are one piece forged from a racing grade stainless steel alloy. Each valve is heat treated with a special process and their stems centerless grinded to a micro finish for longer life.
Important note
If you are changing your OEM titanium valves for AV&V™ Extreme Duty Steel Valves, you must also upgrade your OEM springs for our Extreme Duty Valve Spring Kits due to the need for higher pressure and toughness. (See valves below with ◊)
Yamaha YZ 450F (2010-2012)
Yamaha YFZ 450 (2004-2009) / YFZ 450X (2008-2011) / YFZ 450R (2009-2013)
Yamaha Grizzly, Raptor and Rhino (2006-2015)
Note:
These Raptor and Grizzly valves are .040" longer to correct the rocker arms geometry when using high lift cams.
The stock springs must be shimmed with two AV&V™ shims to get back to the stock pressure. (part number VSS1310-20)
You must use AV&V™ spring kit VSK1318 when using aftermarket camshafts with higher lift.
Blank Valves (no tip, no groove)
Note:
Lash cap required for rocker arm application